Peking Opera
0 Comment(s)Print E-mail China.org.cn, May 15, 2008
Adjust font size:
Peking Opera contains the soul of Chinese national culture. Its unique charm inspires deep feeling in Chinese people.

History:

Peking Opera has been an integral part of Chinese culture for over 200 years. Originating from humble beginning in east China's Anhui and Hubei provinces, it was brought to Beijing by the Qing Emperor Qianlong who, during his periodic inspections of the southern regions, discovered and fell in love with the vibrancy and life in the performances he witnessed there. As an 80th birthday gift to himself, he ordered local troupes to perform for him and had the Anhui and Hubei groups incorporated into the palace opera. In this way Peking Opera was born.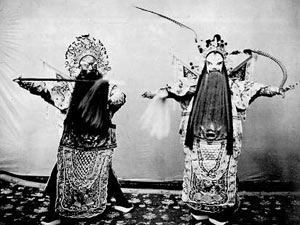 An old photo shows the stage of Tielong Shan.
Aesthetic aims: Peking Opera is a comprehensive performing art that aesthetically combines music, singing, dialogue, pantomime, acrobatics and martial arts. Hence an actor or actress in Beijing Opera has to meet more requirements than that in other forms of performing art. All of these skills are expected to be performed effortlessly, in keeping with the spirit of the art form. Peking Opera follows other traditional Chinese arts in emphasizing meaning, rather than accuracy. The highest aim of performers is to inject beauty into every motion. The most common stylization method in Peking Opera is roundness. Every motion and pose is carefully manipulated to avoid sharp angles and straight lines. A character looking upon an object above them will sweep his eyes in a circular motion from low to high before landing on the object. Similarly, a character will sweep his hand in an arc from left to right in order to indicate an object on the right.
The performers primarily use pantomime to express feelings and tell stories. Stylized footwork, gestures, and various kinds of body movements portray and symbolize actions such as opening a door, climbing a hill, going upstairs, or rowing a boat.
Staging: Symbolism prevails in Peking Opera. The stage of Peking Opera knows no limit in space or time. The set can accommodate anything. For example, an actor can practice the scene of galloping the horse simply by using a horsewhip without riding a real horse on stage. A bridge is made up of two chairs standing on each side of a table. Storms are realized by performers dancing with umbrellas.
Face painting: Vivid face makeup fascinates foreigners watching Peking Opera. Actually this face painting is not done for the sake of beauty but rather it portrays different characters. Red stands for loyalty and bravery, black represents powerful and wise people, yellow and white depict fierce and cunning characters, blue and green indicate very virile Robin Hood type of outlaws, while gold and silver indicates mysterious or super-natural presences.

Main roles: The roles of Peking Opera can be roughly divided into 4 types:

• male role (Sheng; 生)
• female role (Dan; 旦)
• painted face male (Jing; 净)
• comedy actor or clown (Chou; 丑)

Every role has its own facial makeup, decoration and costumes.
A male role, or Sheng, in a Peking Opera play.
A famle role, or Dan, in a Peking Opera play.
A painted mal face, or Jing, in a Peking Opera play.
A comedy actor, or Chou, in a Peking Opera play.
Famous artists: There are many famous masters who are good at performing Peking Opera. Among them, the Four Famous Dans - Mei Lanfang, Cheng Yanqiu, Shang Xiaoyun and Xun Huisheng - are the best known at home and abroad. They are experts in performing the role of Dan and each has his own artistic feature. Their wonderful performances are still appreciated by many audiences. For example, 'Farewell My Concubine' by Mei Lanfang, 'Injustice to Dou'e' by Cheng Yanqiu, 'Lady Zhaojun Going beyond the Great Wall' by Shang Xiaoyun and 'Matchmaker' by Xun Huisheng.
The Four Famous Dans - Mei Lanfang (left 3), Cheng Yanqiu (left 1), Shang Xiaoyun (left 2) and Xun Huisheng (left 4).
Mei Lanfang (1894-1961)
Mei was one of the most famous Peking opera artists in modern history, exclusively known for his qingyi roles, a type of dan role. Mei was born in 1894 into a family of Beijing Opera and Kunqu performers. He made his stage debut at the Guanghe Theatre in 1904 when he was 10 years old. During his 50-year stage career, he maintained strong continuity while always working on new techniques. His most famous roles were those of female characters; skillful portrayal of women won him international acclaim, and his smooth, perfectly timed, poised style has come to be known in opera circles as the "Mei School." Mei was the first artist to spread Beijing Opera to foreign countries. He participated in cultural exchanges with Japan, the United States, and other regions. He toured the world, forming friendships with the western contemporaries of his day, including Charlie Chaplin.
Cheng Yanqiu (1904-1958)
Cheng was born in Beijing. His playing style was recognized as Chen Style. He was also the creator of several original opera productions in the 1920's and 30's. Most of his plays were tragedies and the roles he took on were sorrowful. His more famous plays include "Unicorn-trapping Purse" and "Tear on Depress."
Shang Xiaoyun (1900-1976)
Shang was born in Hebei Province. He had great skill for acrobatics and dancing. His performing style was highly regarded and dubbed the Shang Style. His famous plays include: Mad after Lost Her Son, Liang Hongyu, etc. Shang was also dedicated to training new players. He founded the "Rong Chun Opera School."
Xun Huisheng (1899-1968)
Shang was born in Hebei Province. His performing style is called Xun Style. He entered the "Triple Happiness Opera School" to study Hebei Opera, but switched to playing Peking Opera after graduation. He was good at playing lively and naughty girls and heroines.
Theaters: Most Peking Opera plays are unintelligible to the untrained viewer, but they are usually based on folk tales, famous novels and fairy tales and are a pleasure to watch if you know the basic story. Some of the bigger theaters offer subtitles in English and Chinese so even if you don't know the story you can still follow along. Venues where you can see Peking Opera performances are listed as:
Huguang Guild Hall (湖广会馆)
Add: No.3 Hufangqiao Road, Xuanwu District, Beijing
Transportation: Subway Line 2 Heping Men (207, exit D1); walk south 10 min
Tel: 010-83547971 63518284
Ticket prices: 180, 280, 380, 680 yuan
Chang'an Grand Theater 长安大戏院
Add: 7 Jianguomennei Dajie, Dongcheng District
东城区建内大街7号
65101309; 65101310
www.changantheater.com
Ticket: 50-800 yuan
Lao She Teahouse 老舍茶馆
Add:Bldg 3, Qianmen Xidajie, Xuanwu District
宣武区前门西大街3号楼
Tel: 6303 6830
Tickets: 180, 280, 350, 380 yuan
Nightly shows at 19:50, until 21:20
Mei Lanfang Grand Theater梅兰芳大剧院
Add: 32 Ping'anli Dajie (southeast of Guanyuan Qiao), Xicheng District
西城区平安里西大街32号(官园桥东南角)
Tel: 5833 1288/1388
Li Yuan Theater 梨园剧场
Add: Xuanwu District 1/F, Qianmen Hotel, 175 Yong'anlu, Xuanwu District
宣武区永安路175号前门饭店一层
Tel: 6301 6688 ext 8860 or 8864
Ticket: 200, 280, 380, 580 yuan