China Aviation Museum
0 Comment(s)Print E-mail China.org.cn, May 16, 2008
Adjust font size: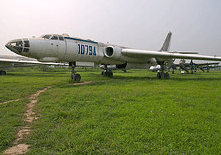 China Aviation Museum is about 40 miles north of Beijing and located in the foot of fascinating Xiao Tang Hill (XiaoTangShan) in Changping County. On November 11, 1989, it was opened to the public in the 40th Anniversary of the Founding of Air Force of the Chinese People's Liberation Army.
The museum was founded on part of an airbase; the runways are a mile distant and are connected to the museum by a long taxiway, which is also used as access for the traffic. Next to the museum the taxiway continues up the hill; in the hill is a large U-shaped tunnel, which, in the operational days of this part of the airbase undoubtedly sheltered numerous aircraft. Near to the taxiway there are some aprons and a hangar, so there is room for many, many aircraft, mostly military but also some civil ones.
At present, the aviation museum collected more than 200 airplanes with the types exceeding 100, and weapon and equipped samples like ground-air missile, high cannon, radar, aviation bomb and aviation cameras. Among which, lots of them are the precious cultural relics of the country and world aviation treasure works.
Travel tips:
Address: West of Xiaotangshan Hill, Changping District, some 100 kilometers north of downtown Beijing;
Entry ticket: 50 yuan
Opening hours: 8:00-17:00
Transportation: Take Bus No. 912 at Andingmen Station, and get off at the gate of Aviation Museum directly;
Tel: 010-61784882; 61784883; 66916901