West Waterway Tour in Beijing
0 Comment(s)Print E-mail Streetwise Guide Beijing, May 17, 2008
Adjust font size: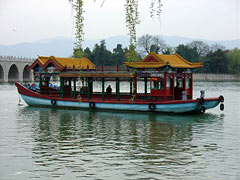 Tourist boat on the Kunming Lake in the Summer Palace. 
Ever wondered how you could see a totally different side to Beijing? A side where hectic traffic, bikes and pedestrians are not an issue? Well, we strongly recommend taking to the water and hopping a boat! Take one of the city's canal routes and spend a few pleasant hours taking in the scenery from a duck's eye view. These two routes (of the four available) are chosen as providing you maximum natural beauty and minimum skyscrapers! Obviously, during winter when all waterways are solid ice there is no service.
Route 1: Beijing Exhibition Center (北京展览路) — Kunming Lake in Summer Palace (颐和园昆明湖)
Linking the Summer Palace with Beijing proper, this imperial waterway was the chosen mode of transport for royal families traveling to their summer hideaway. Allow yourself 50 minutes to travel its 9km course to the Summer Palace.
Along the way watch out for the following: Beijing Exhibition Center (北京展览馆), Beijing Aquarium (北京海洋馆), Beijing Zoo (北京动物园), National Library of China (国家图书馆), Purple Bamboo Park (紫竹院公园), Ziyuwan's faxu-ancient architecture (紫玉湾), Wanshousi (万寿寺), Changhewan (长河湾), and Summer Palace (颐和园).
You will need to switch boats at the Purple Bamboo Park's dock to get to the Summer Palace. If you don't wish to visit the palace, you can buy a single-trip ticket to Purple Bamboo Park for RMB20.
All Aboard
Docks: Beijing Exhibition Center Dock (北展码头) Getting there: Bus 15, 19, 26, 107, 716, 732, 812, 特4 to Beijing Exhibition Center (北京展览馆), turn north at KFC Departs: Once an hour between 10am-4pm. Summer Palace South Gate (颐和园南如意门) Getting there: Bus 374, 437, 481, 704, 952, 992 to Liulangzhuang Xikou (六郎庄西口) Departs: once an hour between 11am-5pm Prices: Single trip 40 yuan; round trip 70 yuan Contact number: 86-10-88363576/3577
Route 2: Beijing Zoo (动物园) — Jishuitan (积水潭)
This shorter (3.7km), but equally worthwhile route provides some lovely views of the area's natural scenery, as well as the chance to embark from royal dock. Qihongtang royal dock was often a rest stop for Qing Dynasty Empress Dowager Cixi and Emperor Guangxu. The whole trip takes about an hour.
All Aboard
Dock: Qihongtang (绮红堂), West of Gaoliang Qiao (高粱桥) Getting there: Bus 601 to Gaoliang Qiao Departs: once an hour between 8am-9am Prices: single trip 25 yuan; round trip 50 yuan Contact number: 86-10-62252110/2130
(By courtesy of Streetwise Guide Beijing)