GT Banana
0 Comment(s)Print E-mail Traveltochina, May 18, 2008
Adjust font size:
GT Banana 巴那那俱乐部
1/F, Scitech Hotel, 22 Jianguomen Waidajie,
Jianguomen
建外大街22号赛特饭店1层
Tel: 010-65283636
banana-spice@vip.sina.com
Open Mon-Fri 8:30pm-4:30am; Sat-Sun 8:30pm-5:30am
Price 100 yuan -199 yuan per couple
Accepts International Credit Cards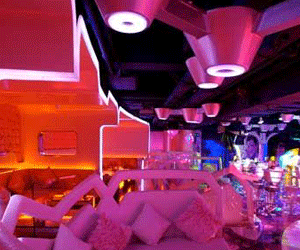 2000-guest capacity, 3000 m² (that's nearly an acre, oldies!) megaclub. House music from big-name Chinese and international DJs strutting their stuff in this blend of Hollywood and rocket ship. Highly-rated by both the local and the expat clubbing clientele.