Galerir Urs Meile
0 Comment(s)Print E-mail China.org.cn, May 20, 2008
Adjust font size:
This Swiss gallery established its Beijing branch in 1996 and quickly became one of the most respected spaces in Beijing for contemporary Chinese art.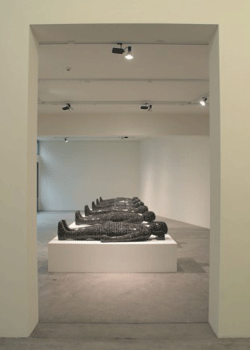 Founded in 1992 by Urs Meile, Galerie Urs Meile has established a major international reputation for its engagement in showing emerging Chinese contemporary artists and positions from Europe in various mediums, such as painting, photography, video, and sculpture and installation art. Galerie Urs Meile represents a selection of the most distinguished artists of the 21st century among them Ai Weiwei, Xie Nanxing, Li Dafang, Li Songsong, Li Zhanyang, and Wang Xingwei.
Travel tips:
Address: 104, Caochangdi, Chaoyang District;
Entry ticket: Free of charge;
Opening hours: 11:00-18:30(Tue-Fri); 14:00-16 (Sat)
Transportation: Take Bus No. 402, 418, 359 or 409 to Caochangdi Stop;
Tel: 010-64333393.
Website: www.galerieursmeile.com.
(China.org.cn May 20, 2008)