24 hours in Beijing
By Audrey Broadway

0 Comment(s)Print E-mail China.org.cn, June 23, 2011
Adjust font size:
Beautiful, world-renowned historic attractions like the Great Wall, Forbidden City and Summer Palace attract tourists to Beijing every year. These should be on your list of must-see places in Beijing, but after you've checked those off, there are still many more spots to put on your list. This 24-hour guide to Beijing includes some of the known tourist attractions, but allows you to see a side of the city that you might have not found before. To make a complete day, possibly without sleep, here are several restaurants, three markets, two historical sites, parks, and a spa to relax at the end of a busy day in China's capital city.
How to: See Beijing in 24 hours
8 a.m. to 10 a.m.  -- Temple of Heaven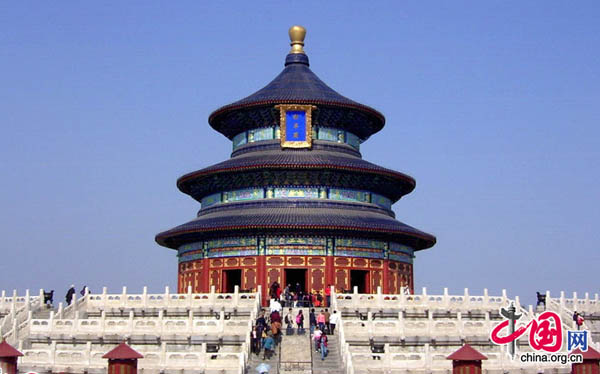 Temple of Heaven. [China.org.cn] 
The Temple of Heaven, a well-known attraction, is a wonderful example of Chinese architecture and is the largest complex of ancient sacrificial buildings. The Ming and Qing emperors would make offerings here in hopes of a good harvest. The temple is most recognizable by its splendid, blue-roofed wooden tower. It is located in the southeastern part of Beijing, and is a great location to go to in the morning. You can find many people out practicing Taiji, playing cards, or singing songs in front of the temple which creates a unique atmosphere from other attractions. You can also find many cypress trees surrounding the temple and some are more than 600 years old. With its soothing atmosphere and beautiful colors, the Temple of Heaven should be at the top of your list of things to do in Beijing.
Tips:
Time needed: 2 hours
Entry Fee: All-inclusive ticket: 35 yuan/ Entrance to park only: 15 yuan
(Get an all-inclusive ticket into the park. Without it you will need to pay an additional 20 yuan to get into each building.)
Hours: Daily 6 a.m. – 10 p.m.; ticket booth closes 4:30pm
Directions: Take the subway Line 5 to the Tiantan Dongmen stop.
10 a.m. to 11:30 a.m. -- Hongqiao Market  
Hongqiao Market. [Baidu.com] 
The Hongqiao Pearl Market, located just east of the Temple of Heaven, is a great place to look for ocean and freshwater pearls. This five-story building offers more than just pearls, and the many vendors can be intimidating at first. They can offer you anything from tea, silk, toys, shoes, purses, souvenirs, and jewelry. The first floor contains more digital goods, such as watches, clocks, ipods and accessories, and adapters. The second floor offers clothes, shoes and bags. When moving to the third floor you will find jade works, pearls, tea sets, and other souvenirs. The fourth and fifth floor consists of higher end jewelry that's more expensive than the jewelry found on the third, but tends to be more authentic.
Tips:
Time needed: 1.5 hours
Remember you can bargain for everything, even if it is only a tenth of the first asking price.
Entry Fee: Free
Opening Hours: Daily 8:30 a.m. to 7 p.m.
Directions: Subway Line 5 to Tiantan Dongmen and take exit A. The market will be found on your right.
12 p.m to 1 p.m. -- Liulichang (Antiques Street)  
An antiques store at the Liulichang Antiques Street. [China.org.cn] 
The Antiques Street is well known for its collection of ancient books, calligraphy, paintings, rubbings, ink and ink stones. There are also shops for paper, scroll-mounting, book-binding, and the stone-carving templates. During the Ming and Qing dynasties, many scholars gathered at Liulichang to write and compile books. It became well known as a place to discuss culture and write poetry. The street was refurbished in the 1980s to become more pedestrian-friendly and is now a well-recognized antique market.
Tips:
Time needed: 1 hour
Entry Fee: Free
Operating Hours: 9 a.m. to 6 p.m.
Directions: Take Line 2 to station to the Hepingmen stop.
1:30 p.m. to 3:00 p.m. -- Dali Courtyard Restaurant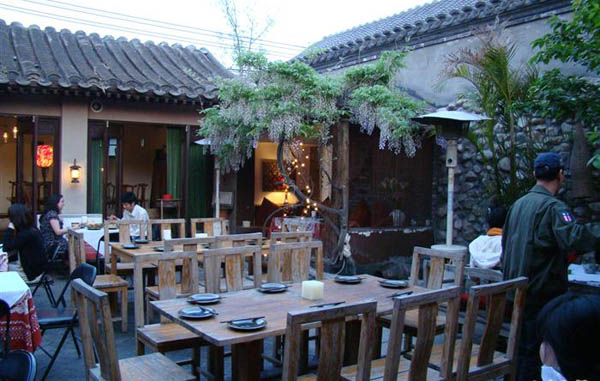 Dali Courtyard Restaurant. [Dianping.com]
If you are interested in taking a step out of the hustle and bustle of the city, try Dali Courtyard. It is a great place to have tea, enjoy wonderful food and experience the ambiance of a quaint restaurant, even if you have limited time. All of the ingredients for their specialty dishes are flown in from the Yunnan province.
Tips:
Time needed: 1.5 hours
Average cost: 100 yuan per person.
Operating Hours: 10 a.m. to 10 p.m.
Address: Dongcheng District, Gulou East Avenue (Gu Lou Dong Da Jie), Xiao Jing Chang Hu Tong
Address (Chinese): 东城区鼓楼东大街小经厂胡同67号
Phone: (010) 84041430
Directions: It can be found on the north side of Gu Lou Dong Da Jie (Drum Tower East Avenue in English). From the entrance of Xiao Jing Chang Hu Tong, walk north for about 200 meters until you see a small red lantern and the sign marking the front door.
3:30 p.m. to 5:30 p.m. -- Lama Temple
Lama Temple. [China.org.cn] 
The Yonghe Temple, also known as "Lama Temple," is one of the largest Tibetan Buddhist monasteries. The temple was built to house the Kangxi Emperor's son. Once his son became Emperor, it was converted into a monastery for the Tibetan Buddhist monks. The history of this building has led to a mixed theme of Han and Tibetian architecture and artwork. The temple is still active, so walk through and smell incense burning, and see people worshiping along with monks. The statues are memorable, and the visit will be well worth your time.
Tips:
Time needed: 2 hours
Entry Fee: 25 yuan
Operating hours: 9 a.m. to 5 p.m.
Directions: Take subway line 2 or 5 to stop Yonghegong (Lama Temple)
6 p.m. to 7 p.m. -- Bell and Drum
The Drum Tower (Right) and Bell Tower. [cicc.org.cn]
The bell and drum towers, located a little west of the Lama Temple, are a huge part of Beijing's history. The towers were originally used for music and later used during the Han Dynasty to tell time. There would be a morning bell and an evening drum to help people of Beijing, who had no other way to tell time, keep a regular day. This idea was then implemented in other cities around China; however, Beijing has the largest and the tallest bell and drum towers. This way of telling time was abolished after the last emperor left the Forbidden City but was revived in 2001 on New Year's Eve. Now the bells ring and the drums are beaten for fifteen minutes four times a day, starting at 9:30 a.m. The performance consists of folk traditions like the lion and dragon dance.
Tips:
Time needed: 1 hour
Entry Fee: 15 yuan (Bell Tower), 20 yuan (Drum Tower)
Operating Hours: 9:10 a.m. to 5 p.m.
Directions: Take Subway Line 2 and get off at Guloudajie Station, take Exit B (southwest exit), and walk South.
7 p.m. to 8 p.m. -- Qianhai Lake
A restaurant beside the Qianhai Lake offering Sichuan hot dishes. [Chetang.com] 
During the evening, the restaurants on QianHai Lake come alive with lights, lanterns, and live music. The light bounces off the lake, creating an ambiance you will not want to leave. There are so many well-decorated and inviting restaurants to choose from for dinner. You can sit out on the patio facing the lake or inside and to better enjoy live music. Vendors with street food and souvenirs can be found further down the lake. There are couples having dance lessons by the dock, and around the corner are groups of students playing different games.
Tips:
Time needed: 1 hour
Entry Fee: Free
Operating hours: Varies with venue
Directions:Take either Line 6 or 8 to Di'AnMen. Follow DianMen Avenue up to the Drum Tower or simply keep to the righthand banksof the Lakes and find your way along the route from Qianhai's Lotus Lane to Jinding Bridge
8 p.m. to 9 p.m. -- Houhai
Houhai. [China.org.cn] 
Qianhai Lake is found right before entering Houhai. When you come to Houhai you can see a community built around a lake that has a great evening atmosphere. Strolling around the lake, you can enjoy the colors of trendy restaurants and vendors. This is not an all-day excursion, but it does not lack things to do. There are paddle boats available to rent. You will need to put down a deposit before taking off into the sunset. Houhai is also well-known for its nightlife and bars. It's tucked away from the main streets, but once you find it you won't want to leave.
A store on the Houhai Lake. [China.org.cn] 
Tips:
Time needed: 1 hour
Entry Fee: Free
Operating hours: Lake Houhai: 24 hours a day.
Address: Yan Dai Xie Jie on Dianmen Outer Avenue (Di An Men Wai Da Jie)
Address (Chinese): 烟袋斜街 (地安门外大街)
Directions: The taxi driver will bring you to Yan Dai Xie Jie (烟袋斜街). Walk down the alley, notable for its many plenty of bars and souvenir shops, and you will then see Lake Houhai.
9:30 p.m. to 11 p.m. -- Wangfujing Night Market
Wangfujing Night Market. [lan27.com] 
This is something you won't want to miss. This market is one of the most famous shopping streets in Beijing. When you first walk in to the market you will see the Snack Street, known for the exotic foods, such as Scorpion on a stick, tarantella, starfish, dog, and even snake. The vendors are persuasive but very interested in selling their food, so stand your ground and stick to your price while bargaining. If you are on a budget, make sure you only bring what you want to spend, because the street's energy will make you more eager to spend. It is one of the more traditional areas in Beijing and the street is one of the few exclusively pedestrian streets.
Address: Wangfujing business street, Wangfujing, Dongcheng district.
Wangfujing Night Market. [lan27.com] 
Tips:
Time needed: 1 hour
Entry Fee: Free
Operating hours: 10 a.m. to 1:30 a.m.
Directions: Take Subway Line 1 to Wangfujing stop
11 p.m. to 12:30 a.m. -- Dragonfly Spa
Dragonfly Spa. [Dragonfly.net.cn] 
Beijing is a huge city, and after trying to see as much as you can during the day, it is time to relax. The Dragonfly Spa is the perfect place to go and soak in all of what Beijing has to offer. It is located just a few blocks away from the Wangfujing Market and the Forbidden City. Fortunately for those who don't speak Mandarin, their friendly staff speaks English. There are massage, nail, waxing, and facial services available. Once you are finished, you will be ready to take on another 24 hours in Beijing!
Tips:
Time needed: 1.5 hours
Entry fee: Ranges from US$15 to US$40 for massage only. Between US$85 to US$175 for massage, beauty or detox packages.
Operating hours: 10 a.m. to 1:00 a.m.
Address: Dragonfly at Forbidden City
No. 60 Donghuamen Ave., Dong Cheng district, Beijing
北京市东城区东华门60号
Reservations: (86 10) 6527 9368